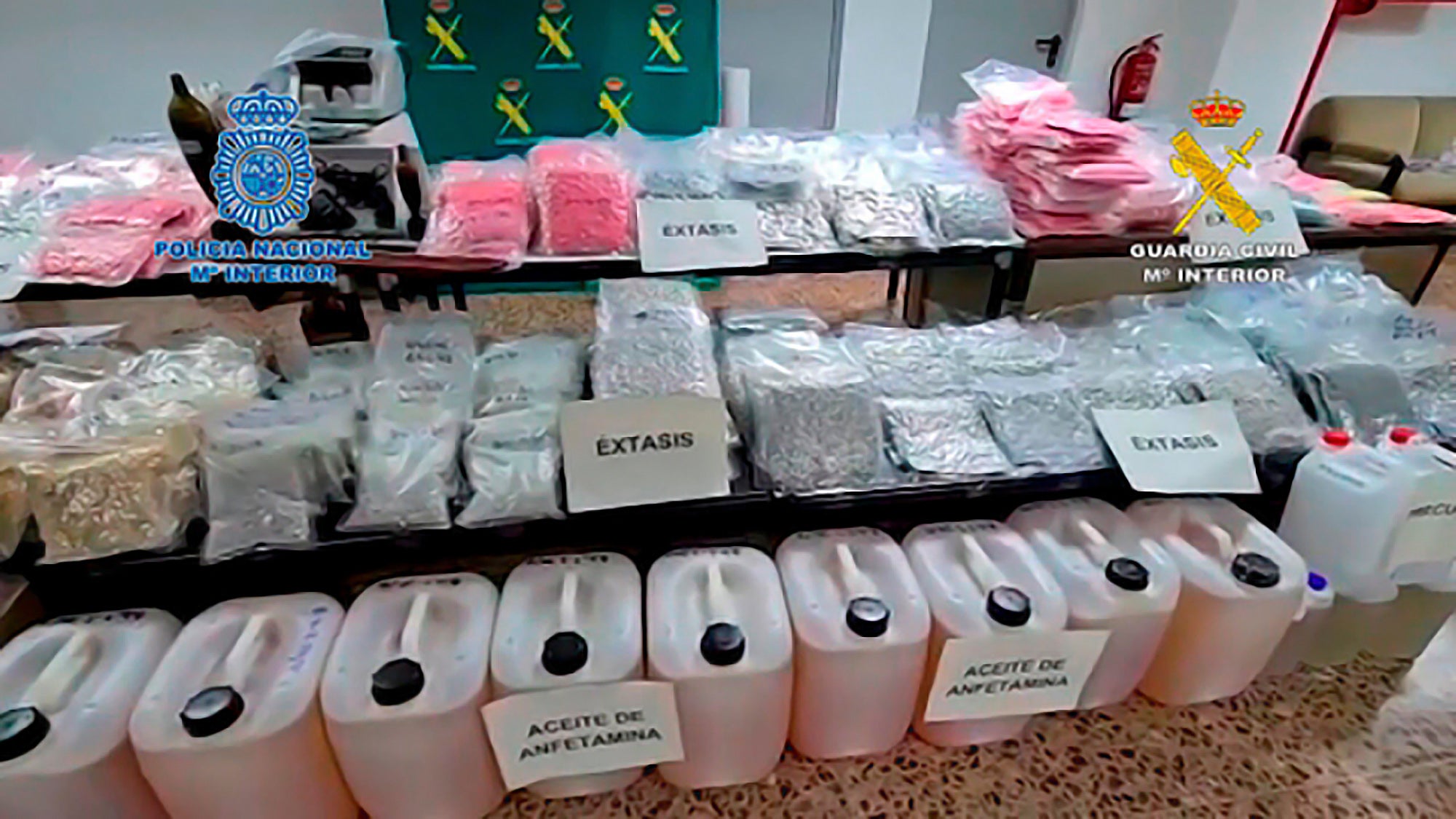 A gang which smuggled drugs in the false compartments of lorries carrying classic cars travelling from Spain to Britain has been arrested as police seized one of the largest hauls of Ecstasy in Europe, worth tens of millions of pounds.
To finance its operation, the organisation transported marijuana and hashish in the lorries to Britain and Holland where the drugs were sold.
On the return journey, the trucks would bring the ingredients to make Ecstasy, LSD and amphetamines at the gang's factory in Barcelona.
Spanish police said the gang's 'cooks' would make the drugs which were later sold across Spain.
After an operation lasting a year, police seized 827,000 Ecstasy pills, 76 kg of amphetamine, 39.5 kg of crystal meth, 310 kg of hashish, 89 kg of marihuana, hashish, 2,000 doses of LSD and 1.65kg of cocaine.
Police also arrested 11 members of the organisation after a series of raids across Spain which centred on its headquarters in Barcelona.
When police raided one of the homes associated with the gang, an officer was shot at by suspects trying to flee.
All those arrested were accused of "belonging to a criminal organisation with the largest potential to make and traffic synthetic drugs in the history of drug trafficking in Spain" the Civil Guard and National Police said in a joint statement .
They were also behind the second largest haul of Ecstasy in Europe in the past twenty years, police said.
"The drugs were worth tens of millions of euros but it is hard to put a figure on it," said a police source.
The members of the gang used computers and mobile phones which could hide messages and panic buttons in case they were detected by police.
Two firearms, two grenade launchers, a machete, computers, encrypted telephones, five cars, three speed boats were also seized during the raids.
Police blocked 23 bank accounts linked to the gang.
The gang, whose members were from Holland, Spain, Romania, Colombia and Italy, appeared before a court accused of drug trafficking, belonging to a criminal organisation and illegal possession of arms. Eight were remanded in custody.