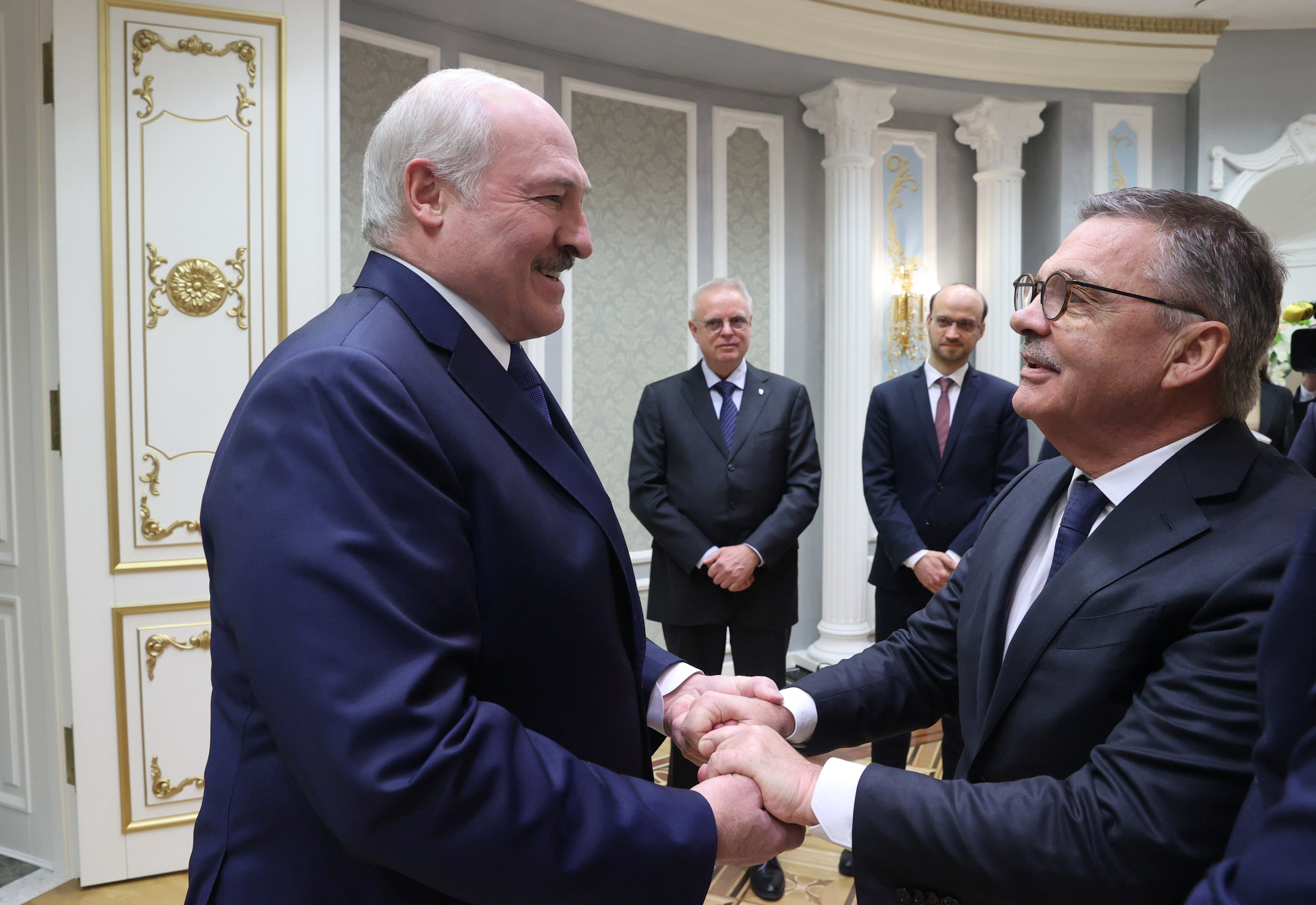 In the five months since Alexander Lukashenko declared himself president for the sixth time in August, the threat of violence has hung over almost every aspect of Belarusian life.
That period has seen over 33,000 arrests; a thousand documented cases of torture, nearly one hundred journalists imprisoned, and at least five men killed.
176 political prisoners remain in jail.
Yet for Rene Fasel, chief of ice hockey's governing body, who arrived in Minsk for talks on Monday, the ugly backdrop did not necessarily exclude Mr Lukashenko from hosting flagship championships this summer.
"We don't want to mix sport and politics," Mr Fasel told his hockey-mad host, a few moments after the men shared an apparently warm embrace. "Sport should unify nations rather than divide them."
Belarus is due to co-host the ice hockey world championships with Latvia in May and June of this year. The Baltic nation has already called for Minsk to be stripped of co-host status over the ongoing clampdown. The European Union has recommended the same.
So far, the International Ice Hockey Federation has refrained from following in the footsteps of the International Olympic Committee, which last month suspended Belarus indefinitely. That decision effectively bars Belarus from competing in this summer's Games in Tokyo.
Mr Lukashenko, who has invested heavily in hockey infrastructure across the country, urged his VIP guest to ignore pressure coming from "certain politicians" in the West.
Belarus was in a position to deliver the "best championship in history," and could do so alone if Latvia wouldn't share a platform. "Our protesters don't storm government buildings like [in the U.S.] Capitol," the 26-year leader said, comments that appeared to contradict previous characterisations of his peaceful opponents as a violent mob.
Svetlana Tikhanovskaya, who almost certainly beat Mr Lukashenko handsomely in the disputed August 9 elections, has called for a boycott of the hockey championships.
Speaking from exile in Lithuania, where she has been living ever since being driven out of Belarus in August, Ms Tikhanovskaya said Mr Fazel's decision to visit Minsk undermined the reputation of the body he represents.
"A sporting festival cannot go on in ice hockey stadiums when just a few kilometres away political prisoners are being held in punishment cells," she said.
The ice hockey world championships start on 19 May and the final is 6 June.