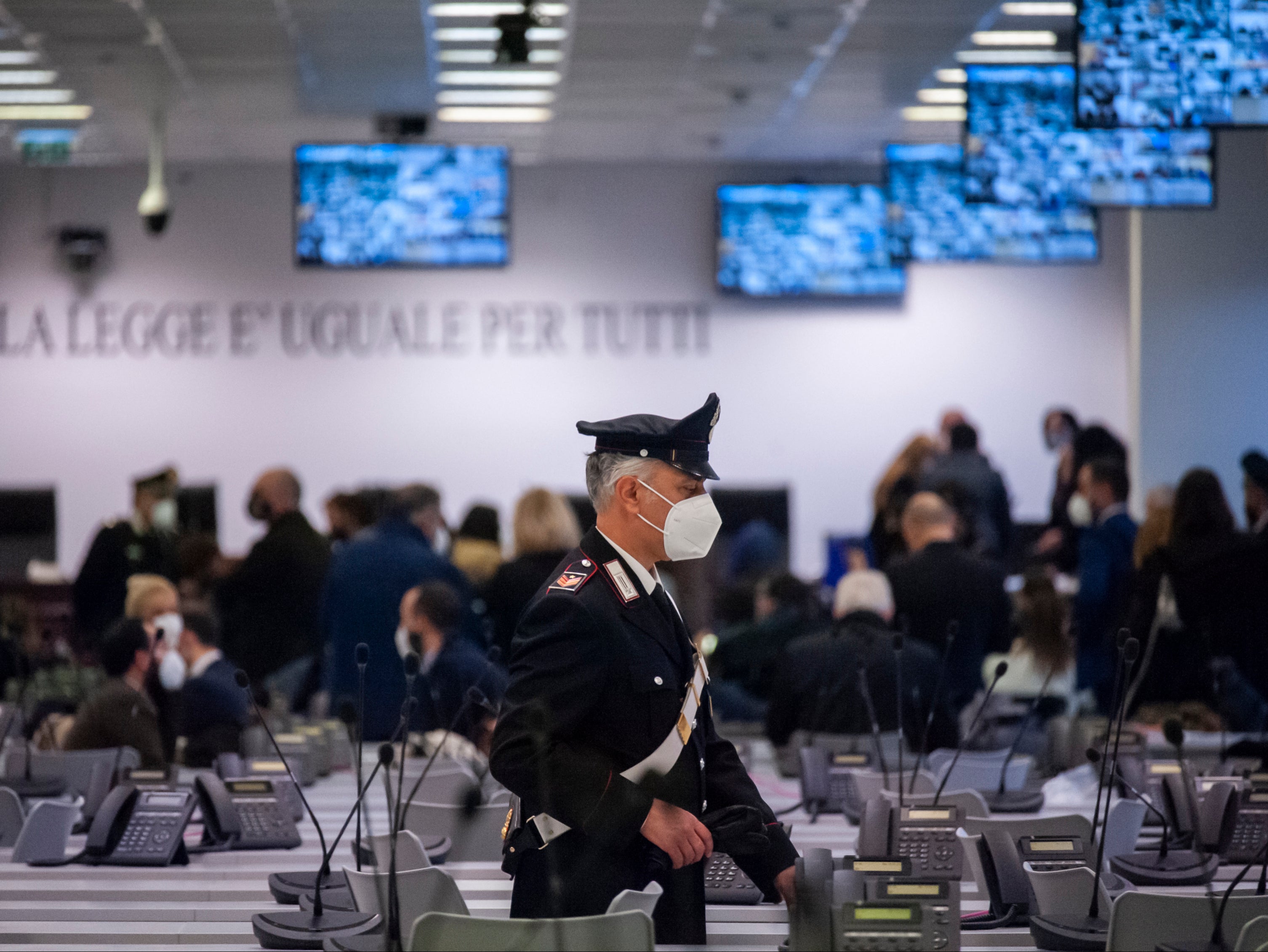 Italy has kicked off its largest mafia trial in decades, involving more than 320 suspected mobsters and associates.
The defendants are facing a host of charges inducing extortion, drug trafficking and theft, as part of the case targeting the 'Ndrangheta clan, known as the most powerful mafia group in the country.
Many of the accused in the maxi-trial are lawyers, accountants, local politicians, businessmen and other white-collar workers who Nicola Gratteri, the chief prosecutor, said willingly aided the 'Ndrangheta in building its crime empire.
The trial is taking place in a converted call centre in an industrial park in Lamezia Terme, a city in Calabria – the southern Italian region where the clan is based.
The 'Ndrangheta have quietly amassed power in Italy as the Sicilian Mafia lost its influence, and has exploited huge cocaine revenues to extend its criminal reach across Europe and and beyond.
The new trial, which started on Wednesday, is the first time in more than three decades that hundreds of alleged mafiosi have been tried in Italy.
Back in 1986, hundreds were put on trial in Palermo in a case which represented a turning point in the fight against Cosa Nostra mafia clan in Sicily.
The Calabrian trial focuses primarily on just one group, the Mancuso clan from the province of Vibo Valentia, leaving much of the 'Ndrangheta's top hierarchy untouched.
The focus is largely on the alleged connivance among mobsters and local politicians, public officials and businessmen.
The state will call on 913 witnesses and draw on 24,000 hours of intercepted conversations to support the myriad charges. Mr Gratteri said he expected the trial would take a year to complete, with the court due to sit six days a week.
"In the last two years we have seen a surge in lawsuits from oppressed entrepreneurs and citizens, victims of usury, people who for years have lived under the threats of the 'Ndrangheta," the prosecutor, who has spent decades fighting the mob, said.
The bunker where the trial is taking place is so vast, there are video screens on the ceiling so participants can better view the proceedings, and a sea of tables for around 600 lawyers to work.
Another 92 suspects have opted for a fast-track trial in the same case, with their hearings due to start later in January, while a much smaller group of defendants will stand trial in February over five murders – including the killing of a mafia hitman who was shot dead because he was gay, prosecutors said.
Additional reporting by agencies